Technically superior internal doors
We don't view a door as simply a piece of furniture. We carefully consider every aspect of the door to ensure it complements your interior design, overall vision for the space and your lifestyle. Deuren internal doors embody premium quality, with precision-engineered timber, unique ironmongery and innovative technology. That's why they're technically superior.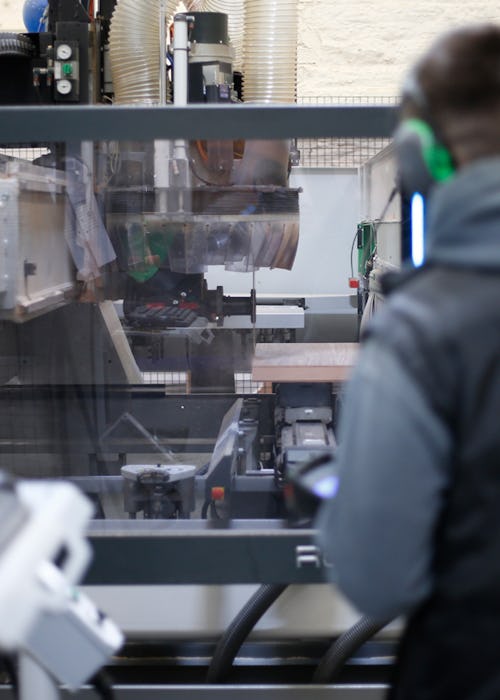 Handmade in the UK
Deuren is proud to handcraft innovative internal doors, with the latest precision technology, right here in the UK. What's more, we work with every component of your door – leaf, frame, architraves and hardware – at our Yorkshire-based site and all the prep and finishing takes place here too. This means the level of fit and finish quality is extremely high and because we only use UK suppliers, the design-to-delivery turnaround time is significantly reduced.
Plus, we benefit from a reduced transportation cost and lower carbon footprint.
Every door we manufacture, exudes character and class as standard.
Seamlessly matching features
For each door we handcraft, we only use timber from the same tree for its leaf, frame and architraves, meaning we can guarantee a far superior finish that pays attention to the finest detail.
Every piece of timber is unique, which is the beauty of using a natural product. However, timber from one tree can look significantly different to that of another, potentially impacting on the overall look of your door. At Deuren, it's these smaller details we care about that make all the difference, as we produce the finest-quality doors available.
Find out more
Doors proud to be made in Britain 
Every Deuren door is manufactured, finished and prepped for installation in our factory, which is situated in Yorkshire. Every aspect of our work is entirely UK-based. That means we can provide an extremely high level of attention to detail and concise quality control as your doors are expertly handcrafted. It also ensures that our (and effectively, your) carbon footprint smaller with every Deuren door order.
Find out more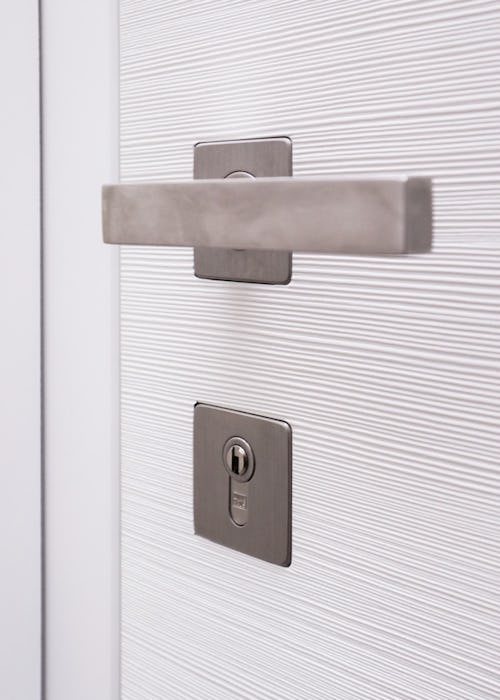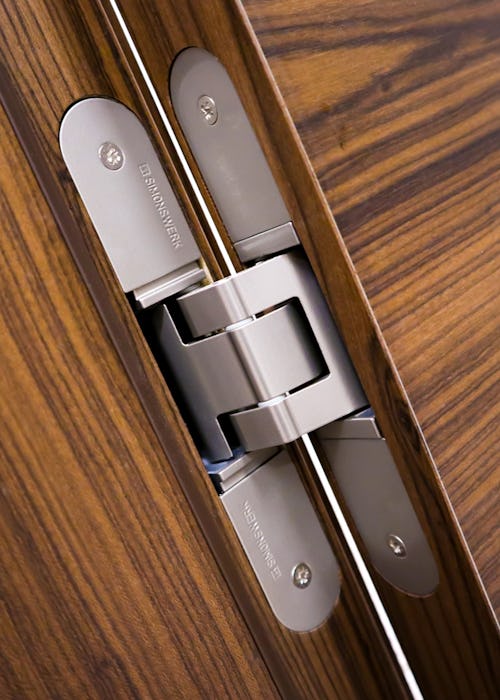 High-quality hardware
Truly beautiful doors depend as much on their functioning as they do the aesthetic. That's why we use only the most advanced, innovative hardware and technology.
Deuren internal doors feature concealed hinges that disappear completely of view when the door is closed. They're also fully adjustable in three dimensions should your building settle and the door need adjusting. A magnetic latch is flush-fit and allows for quieter operation, with no need for an unsightly strike plate on the frame, while the frame seal cushions the door when opening and closing to help increase sound insulation.
Everything's bespoke, allowing you to choose from and almost limitless range of finishes and sizes.
Engineered solid timber
We use solid engineered hardwood in every internal door for a premium finish and unrivalled quality. Your home goes through a humidity cycle as we move through seasons – in winter, the heating can dry out timber products, while in summer, humidity levels increase and can potentially result in timber swelling.
Engineered hardwood reduces the possibility of changing shape or size over time. The core of the door is made from individual strips of wood that have been cut, re-organised and glued back together. The result is a solid internal door and frame that's much less affected by the changing environment in your home.
Design-to-installation service
We handcraft exquisite internal doors made entirely bespoke to your vision and designed cater to how you interact with your home and use the spaces within it. And we work with you every step of the process, from initial talks, in which we'll immerse ourselves in your vision and wish list, through to manufacture and installation.
You're invited to visit our expansive showroom and factory, where you can see our skilled craftsman at work and view a selection of internal doors before talking us through your dream design. The manufacture and finish of your internal door is all completed on-site and we'll then install your pre-hung door set as part of a mess-free process at your home.
Contact the team